Jon Zens is one of the scholars who endorsed Pagan Christianity by Frank Viola and George Barna, along with Dr. Robert Banks, Dr. Howard Snyder, Dr. Dave Norrington, Dr. Graydon Snyder, Dr. Gregory Boyd, Dr. Ralph Neighbour, Alan Hirsch and others.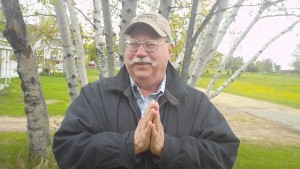 Dr. Zens has a wide-ranging theological background. He holds a B.A. in Biblical studies from Covenant College, a M.Div. from Westminster Theological Seminary, Philadelphia, and a D.Min. from the California Graduate School of Theology. Zens' groundbreaking articles in the late 1970s, "Is There a 'Covenant of Grace'?" and "Crucial Thoughts on 'Law' in the New Covenant," were highly instrumental in developing what came to be called "New Covenant Theology."
Jon's doctoral thesis was published in an edited form in 1997 as "'This is My Beloved Son, Hear Him': The Foundation for New Covenant Ethics and Ecclesiology." He is also the author of the new book A Church Building Every 1/2 Mile: What Makes American Christianity Tick?, which releases at the end of July.
For the last thirty years, Jon has been the editor of a magazine entitled Searching Together. He's not only a NT scholar, but he's an expert on church history. Jon also served as a pastor for a number of years, but moved on after concluding that full reformation within the existing institutional church system was unworkable. You can read his story here.
Also, for the past thirty years he and his wife, Dotty, have been ministering in small fellowships concerning living under grace and learning to extend grace to others. They also have a ministry where they help victims of sexual abuse and rescue women in the sex slave and prostitution industry. In this capacity, Jon and Dotty speak at international conferences on women in sex slavery and prostitution.
Jon Zens' Writings 
What's With Paul & Women: Unlocking the Cultural Background to 1 Timothy 2
Authors: Jon Zens
Focuses on 1 Timothy 2:9-15, but actually covers all the major Biblical issues in the gender discussion — Eph 5, 1 Cor 14:34-36, 1 Cor 7:1-5, and an extensive review of John Piper's "What's the Difference?" Foreword by Wade Burleson.
The Pastor Has No Clothes: Moving from Clergy-Centered Church to Christ-Centered Ekklesia
Authors: Jon Zens
Combines three past articles from 1981, 1982 & 1995, with three new articles, including a review article of Eugene Peterson's "The Pastor: A Memoir." Also contains excerpts from Jon's lengthy critique of Ben Witherington's response to Frank Viola's "Pagan Christianity?" This book shows that the tradition of pastor-centrality is not rooted in the New Testament, and presents an organic approach…more
No Will of My Own: How Patriarchy Smothers Female Dignity & Personhood
Ekklesia Press
March 1, 2011
Authors: Jon Zens
Using an early 1980s study in the Netherlands as a spring board, this book looks at how Biblical wording like "Honor your father" & "submit to your husband" are used manipulatively to abuse women and children. It also examines some manifestations of heavy-handed male headship in the homeschooling movement in America.
A Church Building Every 1/2 Mile: What Makes American Christianity Tick?
Ekklesia Press
June 1, 2008
Authors: Jon Zens
Every 1/2 Mile isolates some key components of church life in America — a building, a pastor, a pulpit, seminaries, denominational commitment, tithing — and suggests contours from the NT that might provide a Life-giving way of pursuing Christ together as believers. Foreword by Frank Viola.
Christ Minimized? A Response to Rob Bell's Love Wins
Ekklesia Press
December 2011
Authors: Jon Zens
Rob Bell's "Love Wins" created quite a stir, even before it was published. In response to many inquiries, Jon wrote this crisp response to the major points "Love Wins" makes, and in the course of it brings out many important points about how the Bible is used to "prove" things. Foreword by Edward Fudge.
California Graduate School of Theology
D.Min, Ekklesia Ethics
1981 – 1983
Editor/Author
Educational Institution; 1-10 employees; Writing and Editing industry
February 1978 – Present (35 years 5 months) Saint Croix Falls, WI, 54024
Editor, Author, Itinerant encourager of relational communities
Searching Together was originally started out in 1972 as Baptist Reformation Review, and the original editor was Norbert Ward, based in Nashville, Tennessee. In 1975, Jon and Dotty Zens moved to Nashville to work with Norbert on the magazine, and a new church that was meeting in his basement. Because of health issues, Norbert asked Jon to be the editor in 1978. In 1982, the name of the quarterly was changed to Searching Together. It seeks to carry on the founding thought expressed by Norbert in 1972 — "We make no claim to be the voice of a movement or an organized denomination. We do not, on the other hand, claim to be a lone voice. We believe that we are expressing the hope and earnest prayer of concerned believers."
Searching Together is a quarterly magazine published by a team of Christ-followers, with Jon Zens as editor. The team includes: Timothy Bolton, Kathy Huff, Bonnie & Gary Jaeckle, Dale & Shamra Martin, Timothy L. Price, Arlan Purdy, Marv & Jodi Root.
Educational Institution; 1-10 employees; Writing and Editing industry
January 1978 – Present (35 years 6 months)
**Editorial work on other authors' manuscripts on a contract basis
**Authors books on church life, women's issues, etc.
**Travels domestically and internationally to encourage and help equip relational, Christ-centered communities
**Book maven
Active in Ministry 1965 – 2011 (46 years)
Jon Zens' Story
I've been through College as a Bible major (1968) and then finished seminary (1972), but I've never really been "the pastor" quite the way many have been. My transition wasn't black and white – going from traditional pastor to simple church. It was more gradual as the Lord brought people and books into my life as the years passed. I hope the abbreviated highlights of my journey will encourage you!
I was not raised in a Christian home. The Lord called me out of darkness in 1964 and my first church experience was in a Fundamentalist Baptist church in southern California. I was encouraged by the pastor to transfer from Cal State at Northridge as an Art major and become a "preacher boy" at Bob Jones University.
While a student at BJU I found a copy of Alexander Hays' New Testament Order for Church & Missionary (1947) in a used book store. I read it and it was hard for me to connect the dots to all the points the author made, but I learned some basic perspectives from that book that the Lord used to restrain me from going whole hog "into the ministry."
In 1968 I married Dotty, and after completing studies at Covenant College, we moved to Philadelphia. Our goal then was for me to attend one year at Westminster Seminary, and then leave to spend the rest of our lives in missionary work in India. Our visa was turned down, so I ended up continuing at WTS.
We attended a church that was part of a small denomination while I went to seminary. The pastor felt called elsewhere and a group of us decided to leave this church and start a new one. In the new body we were not interested in having a pastor, so for the time being we formed a steering committee of three brothers. However, we ended up bringing in an older man who had "pastoral" experience to join the steering committee. He ended up wanting to be "the pastor," and the church split, half staying with him, and half mostly moving on to another church.
When Dotty became pregnant, I worked full-time (third shift) at Standard Pressed Technology from 1969 – 1975 in several departments while a student at seminary.
Click here to read the rest of Jon Zens' story
Jon Zens and Frank Viola Interviewed
Jon Zens is the editor of Searching Together magazine living in Wisconsin. Frank Viola is an author, conference speaker living in Florida. 
Radical Reversal: December 2007
Is there any "structure" and "flow" when you gather together as church? For example, do you have a a topic or passage chosen in advance? Do you sing songs? Do certain folk "lead" or "facilitate" the discussion? 
[Frank Viola]: The churches I work with don't have a specific structure. Their meetings are different all the time. The sisters and brothers prayerfully plan their own meetings. Thus they gather in all sorts of ways. The hallmark of every meeting is that everyone is free to function and participate, and there is no human headship. The goal of each meeting is to display the Headship of Jesus Christ and reveal His unsearchable riches. The churches typically write their own songs. They also trade songs with other churches who have written them. (Some of the songs these churches have written are honestly the best Christian songs I've ever heard. It's amazing what the Body of Christ can do when its creativity is watered and unleashed.) They also sing the great songs that our forefathers of the past wrote. That would include the classic hymns, the timeless songs from the Jesus movement, etc.
These churches have no official "leaders" or "facilitates." They seek to meet under the Headship of Jesus Christ. My goal as someone who plants churches is to equip the members to gather under Christ's Headship, to handle problems on their own, to build community, to train the church on how to have an ongoing relationship with Christ, and to make decisions by consensus. This model of leadership and gathering is rooted in the Triune God as well as in the teachings of the New Testament. And it's markedly different from the traditional/institutional model which is rooted in the Greco-Roman style of leadership and concept of performance.
[Jon Zens]: We sit together around folding tables. We have a loose structure when we gather, which includes a mixture of singing, open sharing, a teaching and then open time for questions and discussion, and prayer. There is no "leader." We do have one person who has been designated to step in if things seem to be going down rabbit trails, etc., but I can't recall the last time such intervention was necessary. 
With regards to leadership, how do you deal with the passages in the NT, esp. in the so-called "pastoral epistles", that speak of qualifications for "elders/overseers/" and "deacons"? Also that Paul addresses his letters to "elders". 
[Frank Viola]: This is a large topic. Here's the short answer. There's been a lot of misteaching on what elders are and what they do. They aren't officers, just older brothers who handle crisis. They don't dominate the ministry of the church nor do they make decisions on behalf of the Body. Not all the churches in the first century had elders. And they weren't a permanent fixture. Some of the churches I've worked with had elders, others didn't. Paul never addresses his letters to the elders, only to the churches as a whole. (He mentions the elders only in passing in Philippians, then he speaks to the whole church as he does in his other letters.) 
Here is a quote that the author would certainly apply to house church advocates:
"Primitivism retains the most minimal commitment to God's action in history (in the life of Christ and usually in the first century of apostolic activity) and then seeks to make only this first-century "New Testament church" normative for contemporary practice. This is usually articulated by a rigid distinction between Scripture and tradition (the latter then usually castigated as the "the traditions of men" as opposed to the "God-given" realities of Scripture). Such primitivism is thus anticreedal and anticatholic, rejecting any sense that what was unfolded by the church between the first and the twenty-first centuries is at all normative for current faith and practice (the question of the canon's formation being an interesting exception here)."
– James K.A. Smith, Who's Afraid of Postmodernism? Taking Derrida, Lyotard, and Foucalt to Church (pp. 128-129) 
How would you answer the charges the author makes to those (like house churches) who argue for apostolic practices as "normative" and who "ignore" God's hand in the unfolding of Church history? 
[Frank Viola]: I wouldn't classify myself as a "primitivist" in the sense that this author is using it. For instance, I don't believe that we Christians should try and imitate the practices of the New Testament church and do nothing beyond that. If that were the case, we'd all have to wear togas, sandals, and speak Greek! However, the church of Jesus Christ is an organism, and it has a unique DNA. That DNA is part of Christ Himself. Therefore, the church's DNA is unchanging. "Jesus Christ is the same, today, yesterday and forever" (Hebrews 13:8). Consequently, when the church is following her organic nature, in many ways she will look the same as she did in the first century. She will also flesh out the unchanging principles of the New Covenant, such as the priesthood of all believers, authentic community, the family of God, the Headship of Christ, the every-member functioning of the Body, etc. Tragically, the Christians of the third, fourth, and fifth centuries borrowed many of the pagan practices of their Greco-Roman neighbors and brought them straight into the Christian faith. And we have unthinkingly accepted them.
The problem with this is that many of those practices violate the DNA of the church. Instead of fostering the Headship of Jesus, those practices have usurped it. Instead of encouraging the priesthood of all believers, they have restricted it to a few. Instead of embracing the every-member functioning of the Body of Christ, they have suppressed it. So long as a church embraces a new practice that doesn't violate the church's DNA and the teachings of Scripture, then there's no problem. But when it does, that practice should be abandoned. As Jesus said to the religious leaders of His day, "You nullify the Word of God by your tradition." I believe that many of our modern church traditions have done this very thing. I've written a book entitled Pagan Christianity that establishes the above historically. 
[Jon Zens]: I think the author has loaded the deck, so to speak. Generally, Protestantism has affirmed that Scripture is the final court of appeal for faith and practice. All post-apostolic history is subject to the scrutiny of the New Covenant documents. So, indeed, nothing after the apostles can be said to be binding or normative on believers.
What I am advocating is not to approach the New Testament with a wooden literalism. We must capture and practice the fundamental perspectives it unfolds. There is a great deal of freedom in how the body of Christ functions. In the New Testament we are not given a book like Leviticus that tells us in detail how to carry out church-life. But no church structure or way of doing things should contradict or squelch the New Testament basics like the priesthood of all believers, open/participatory meetings, making decisions with one-mindedness, and no caste system (clergy/laity).
Those who say "we want to follow the New Testament" are not throwing out all of church history, but they are saying, as did Robert Brinsmead: "To embrace the gospel means that we confess that all history but Christ's stands under the judgment. It is His history plus nothing which justifies our existence" (Judged By the Gospel: A Review of Adventism, Verdict Publications, 1980; p.359).
The author would have to face the reality of history that the post-apostolic visible church since Constantine was under the thumb of civil leaders. As John Kennedy pointed out in Torch of the Testimony there have always been those minority groups that questioned and challenged the state-based form of Christianity. Until the Anabaptists blossomed in the 1500s such minorities were usually liquidated by the sword of the "Christian" magistrates!
It would seem that Protestantism, at least in theory, has stood for a form of "primitivism," affirming sola scriptura, Scripture alone. So what is really so radical about those outside the institutional church who advocate following the New Testament patterns? Is it that they actually wish to practice what they see in its pages?
Click here to read the rest of the Jon Zens and Frank Viola interview
Sources:
Jon Zens on Beyond Evangelical